Answer: not unless the crop is less than 85 million planted acres and 164 BPA.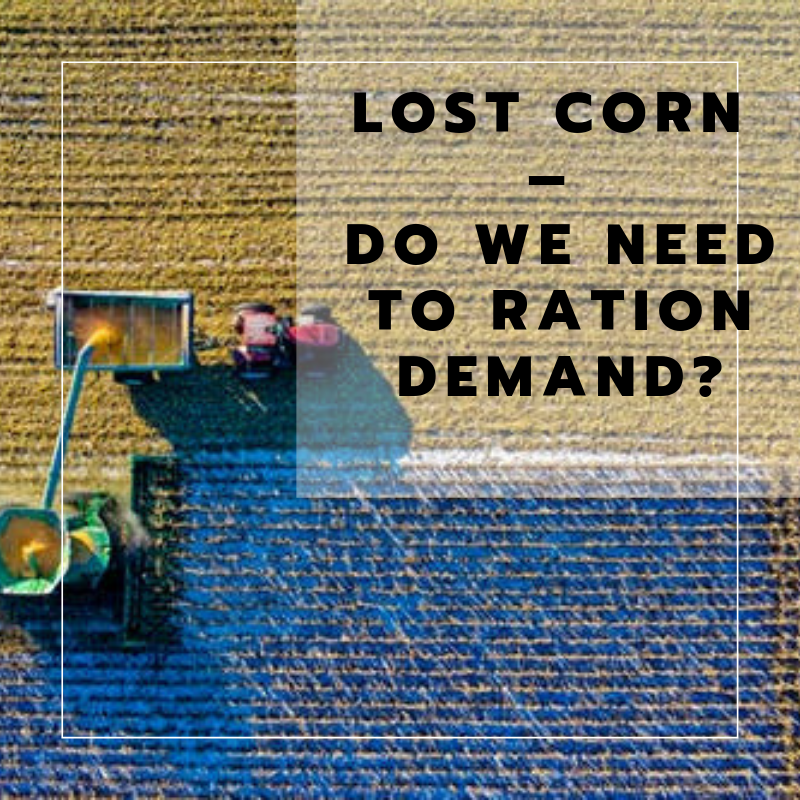 Wet conditions in the US have reduced the corn crop. The extent of the reduction is TBD (to be determined).  To determine the crop size, we must fill in the blanks on acres planted and yield. We know both area and yield have been reduced by the late planting and prevented plant. USDA NASS will provide the latest guess of acres on June 28th. Due to the late planting, it is likely an acreage resurvey will be conducted in July or August. The June 28th report will at least get us close to the actual planted acreage. The yield variable will be determined mostly by July and August weather. NASS will not provide a surveyed yield for corn until September. Our best surrogate for yield until September will be the weekly crop conditions. At best, the weekly conditions tell us if the crop is improving or declining, but it is a poor indicator of actual yield.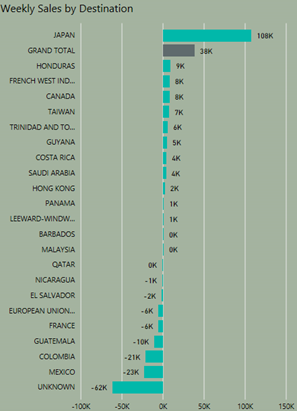 The US corn crop was estimated at 15 billion bushels in early May. Based on the reduction guesses, do we need to ration demand or just ration demand for US corn? The answer is definitely yes, we must ration demand for US corn, and that is already happening. With assistance from a transportation system also disrupted by the heavy rains, we are experiencing a growing number of cancellations of sales booked earlier in the year (see graphic). South American corn is cheaper; even US buyers are taking advantage of the huge Brazilian crop and buying Brazilian. We haven't changed world demand, just moved the source.
How much non-US feed is available to offset the loss in the US? Corn stocks for Major Exporters was estimated to climb by 10 million metric tonnes (MMT) in 19/20 – we had 10 MMT to give. There is easily 10 MMT of wheat that can be supplemented for feed. South America can produce 40 MMT of corn by reducing soy production by 25 MMT. The world can afford to lose 25 MMT of soybean inventory. Will South America respond that aggressively? Maybe not all in the first crop planted this fall but supplementing the first crop production with additional plantings of Safrhina corn and 40 MMT additional corn is possible.
What's the total:
10 MMT excess
10 MMT from wheat
40 MMT S Hemisphere production
= 60 MMT
= 2.3 billion bushels
= 12.7 billion-bushel US crop (15-2.3)
= 85 mil acres planted X 164 bushels/acre
This is before we plant another crop in the US.
We don't know how big the US corn crop will be this year. We do know we can take a big – 2.3 billion bushel – hit before real demand rationing is required. We work off wheat and oilseed excesses then, if needed, we begin to price away real demand.
In 2019 the corn market has been forced to do something it has never done before – bid for acres against the prevented plant payment on a large scale. It has created a disguised market premium. Did the market do enough to keep enough corn acres? We won't know until we see July weather.
Supply issues have almost always ended faster and more abruptly than expected because other suppliers respond. The market has put corn well above cost of production for Southern Hemisphere producers and the profit is better than alternative crops. The market has done what it needs to do. Supply-side rallies rise and fall quickly with heightened emotion. It will be difficult for the current market to maintain this emotion beyond the middle of July. There will still be weather concerns, but the significant factors that are unknown today – acres and July weather – will be known.
Bottom line:  Don't fall in love with supply-side rallies – they are only a summer romance.