The United States Environmental Protection Agency (EPA) created RINs to help reduce the production of greenhouse gases and encourage the expansion of renewable energy as part of the Renewable Fuel Standards Program. US and foreign companies are now required by the EPA to submit a set number of these RINs each year if they want to participate in this renewable energy supply chain. They are designed to reward those who comply with the drive to energy transformation.
Renewable sources of fuels such as renewable diesel, sustainable aviation fuel, and ethanol-based gasoline, along with the emerging technologies that support them, are a growing area of focus for many. From traditional fuel refineries, agricultural supplies to private equity firms and major corporations, more and more entities are interested or actively getting in the game.
Renewable Identification Numbers (RINs) have been created to reward the market participants who tackle the challenges of climate change. They are the "currency" of energy transformation within the energy and increasingly into the agricultural supply chains.  Managed effectively, the growing market in RINs now represents a real business opportunity for many types of businesses.
Renewable identification numbers (RINs) are credits used for compliance with the EPA's Renewable Fuel Standards program.  RINs are unique serial numbers that are generated and allocated to a fuel producer when they make a gallon of renewable fuel. However, once allocated, they can also be traded or bought. Importantly, you don't have to have made any fuel to own or trade an RIN.
Renewable fuel producers such as refiners generate RINs
Market participants trade RINs
Obligated parties obtain and then ultimately retire RINs for compliance
RINs can be traded in two forms:
Assigned RINs – directly associated with a batch of fuel and that travel with that batch of fuel from party to party. Purchasers obtain both renewable fuel and RINs together.
Separated RINs – formerly assigned with a batch of fuel but are no longer assigned to a batch. Purchase only the RIN; the fuel is transacted separately.
Examples of typical RIN terms and transactions include:
Generate – when fuel is produced, a RIN is generated
Buy – when an assigned/separated RIN is bought/traded by a buyer from a seller
Sell – when an assigned/separated RIN is sold/traded by a seller to a buyer
Separate – when a RIN is separated from the fuel to which it was originally assigned
Retire – when a RIN is used to demonstrate compliance, or required to be retired for other purposes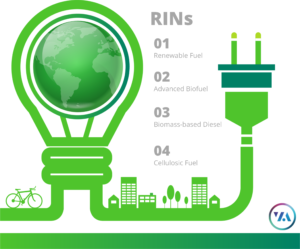 There are four types of RINs:
Renewable fuel
Advanced biofuel
Biomass-based diesel and
Cellulosic biofuel.
Importantly, RINs are strictly time-limited, so you can only trade 2020 RINs during the 2020/21 compliance years, they expire after that and have no value. This has created a very dynamic and profitable market – and many larger organizations are already taking advantage of it.
Some companies will need to purchase RINs to offset the fact that they are not yet compliant. Many companies have already made operational investment decisions to generate or purchase an excess number of RINs – selling them to third parties to make a profit. Larger organizations have the infrastructure and the capital to trade effectively in RINs. Smaller businesses may not always have the know-how or the resources to make the most out of this thriving market.
The team at Vine Advisors can help companies of any size navigate the complex RIN market effectively and take advantage of the exceptional opportunities that RINs present. Vine Advisors is already actively working with businesses up and down the energy transformation supply chain, solving complex problems in accounting, digital transformation, commodity risk management, mergers and acquisitions. Regulatory changes and pressure to act on climate change is rising and the demand for RINs is growing. Vine Advisors are perfectly placed to show you how your organization can benefit from engagement in this emerging and fast-growing market.